---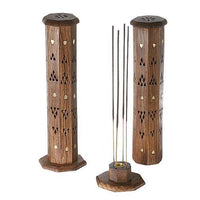 **  Wooden Tower Incense Burner **
**   2 pieces / Apx. 12" high  **
**  FAST SHIPPING!  **
Sirach 39:14: And give ye a sweet savour as frankincense, and flourish as a lily, send forth a smell, and sing a song of praise, bless the Lord in all his works.
Psalm 141:2: Let my prayer be set forth before thee as incense; and the lifting up of my hands as the evening sacrifice.

Rev. 8: 3-4: And another angel came and stood at the altar, having a golden censer; and there was given unto him much incense, that he should offer it with the prayers of all saints upon the golden altar which was before the throne.4 And the smoke of the incense, which came with the prayers of the saints, ascended up before God out of the angel's hand.